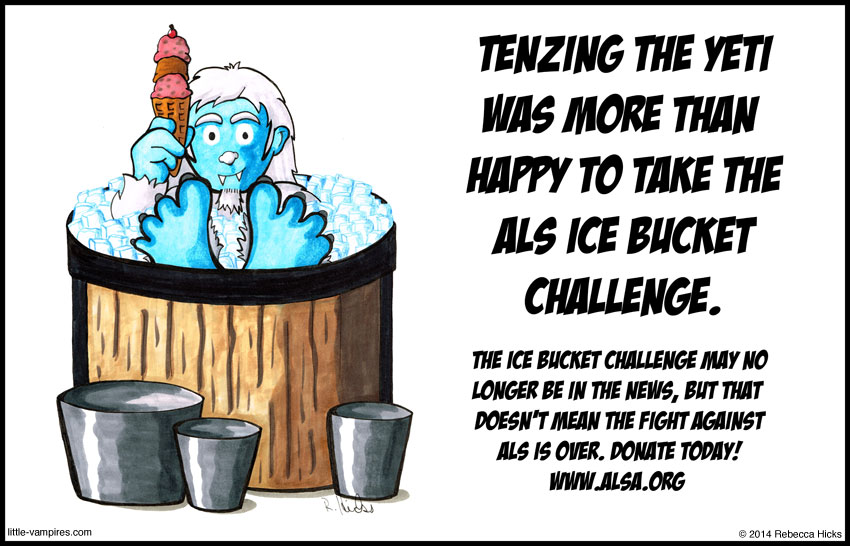 Appearances
CONVENTIONS
Sep

10‑12

2021

Rose City Comic Con

Oregon Convention Center | Portland, OR

Oct

1‑3

2021

MileHiCon

Denver Marriott Tech Center | Denver, CO

Nov

26‑28

2021

San Diego Comic-Con Special Edition

San Diego Convention Center | San Diego, CA

Dec

2‑5

2021

Emerald City Comic Con

Washington State Convention Center | Seattle, WA
I was challenged to do the ALS Ice Bucket Challenge by good friend Marie McNeill. I'm late to the ice party, but it's not like the disease goes away when the publicity does. So please, donate today! Or donate to a charity that may not be in the news, but needs your help. Monsters help each other! Because that's what monsters do.
Tenzing the Yeti was nice enough to donate his time and do the ice bucket challenge for me. He was veryvery eager to volunteer for some reason. I get the sense it wasn't really a challenge for him at all. 🙂
Today's comic was hand drawn, and inked and colored by Copic Markers. I just might auction off the original when all this convention madness is over! 😉
The Espionage Cosmetics Kickstarter has begun! I am so excited to be a part of it! Support this campaign and help make Little Vampire nail wraps a reality by making your pledge!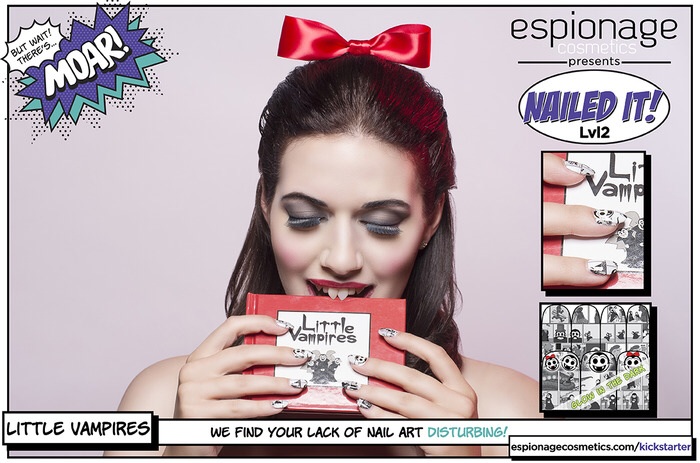 The Little Vampires will be returning to Kentucky this weekend!
ScareFest – September 12-14

And they'll be blehing their way to Portland the weekend after that!
Rose City Comic Con – September 20-21 – Visit Monsterdell at Artist Alley table A-03.