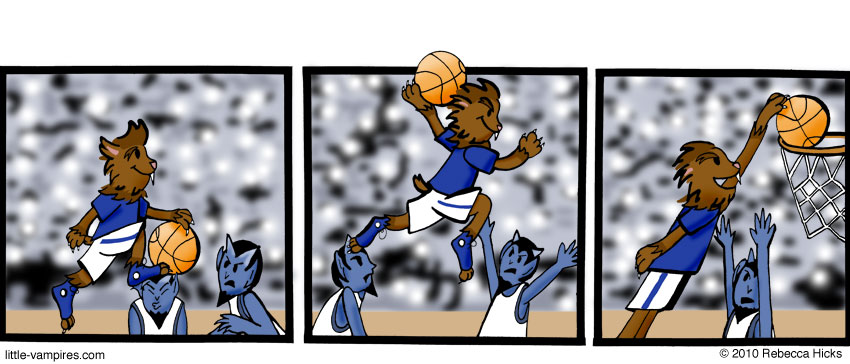 Appearances
CONVENTIONS
Sep

10‑12

2021

Rose City Comic Con

Oregon Convention Center | Portland, OR

Oct

1‑3

2021

MileHiCon

Denver Marriott Tech Center | Denver, CO

Nov

26‑28

2021

San Diego Comic-Con Special Edition

San Diego Convention Center | San Diego, CA

Dec

2‑5

2021

Emerald City Comic Con

Washington State Convention Center | Seattle, WA
I am once again showing the love to the places we're visiting on our whirlwind tour of anyplace that will have us. This weekend I'm headed to my 1/3 home state, Kentucky (I was born in New York, spent my teens in Kentucky, and am an adult in California). I call each place home, so there you go.
Since it's NCAA tournament time, I decided to have Wolfie represent Kentucky by playing some basketball. Ain't no basketball like Kentucky basketball! I attended the University of Kentucky, and am still a proud fan of the Wildcats. So Wolfie is wearing Wildcat Blue (he has no problem with cats, but don't tell his brothers that). And he's playing against Little Blue Devils. Yes, as in Duke. Ain't no rivalry like the UK and Duke rivalry.
Of course Wolfie's team wins. 🙂
I will be a guest at the Powell County Reading Celebration on March 27th. I hope to see all my Kentucky peeps there!
And I'm almost done with my con reports for the Staple! and Emerald City Comic Con. If you're not a member of the mailing list, go ahead and sign up. Then you'll be the first to hear all about our wacky adventures in Texas and Seattle.
In haiku form.