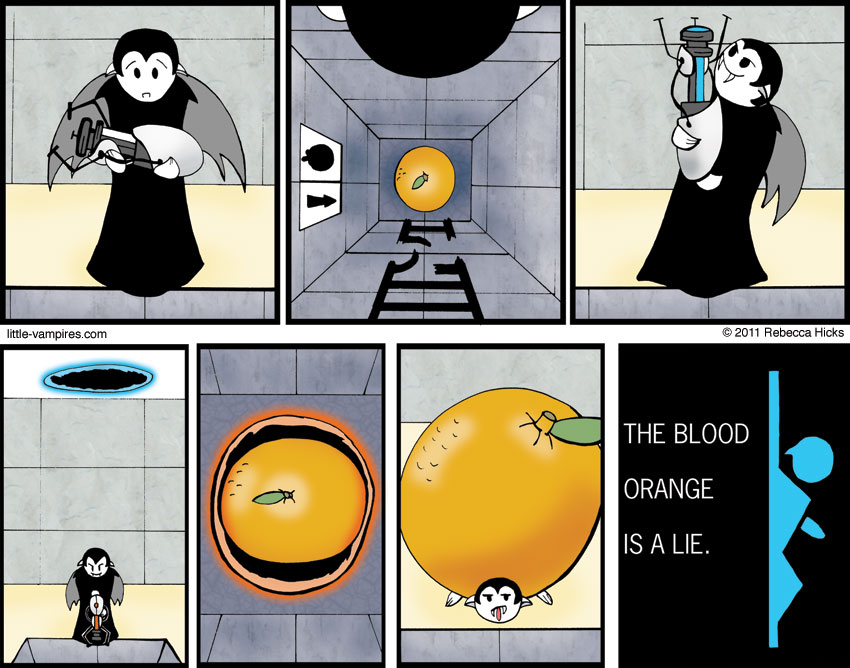 Appearances
CONVENTIONS
Sep

10‑12

2021

Rose City Comic Con

Oregon Convention Center | Portland, OR

Oct

1‑3

2021

MileHiCon

Denver Marriott Tech Center | Denver, CO

Nov

26‑28

2021

San Diego Comic-Con Special Edition

San Diego Convention Center | San Diego, CA

Dec

2‑5

2021

Emerald City Comic Con

Washington State Convention Center | Seattle, WA
UPDATE: Monday's comic will be posted later today. Thanks for your patience!
We don't have a lot of free time, but when we do get a moment for fun, James and I are enjoying the heck out of Portal 2. So I imagined what would happen if a Little Vampire got a hold of a Portal gun. For science, of course.
No free time for us this weekend because we'll be at Wizard World Anaheim this weekend! Come see us at booth 719.
Audience Participation Time!
This week's strip begins an arc of comics about games.
As a thank you for all the support you?ve give the Little Vampire webcomic, I'd love to give you a shout-out during this upcoming story arc. All you have to do is tell me your favorite sport or game, or a sport or game you think the Little Vampires and their friends would enjoy playing.
To give you an idea of what I'm looking for, here are some suggestions that have already been given:
Board games: Operation, Chess, Monopoly, Clue
Card games: Go Fish
Role-playing games: Shadowrun, Dungeons & Dragons
Video games: Portal, Wii Sports, Bejeweled, Tetris, Castlevania
Party games: Twister
Sports: Football, Cricket
Other: Ping Pong, Darts, Laser Tag, Tic Tac Toe (also known as Global Thermonuclear War)
If I use your idea in the Fun and Games arc, you'll get a shout-out on the site! To participate, send me your suggestion, along with your name, a short bio, an explanation of why you're a Little Vampires fan and how you became a Little Vampires fan, a link to your website if you have one, and a .jpg picture if you want it on the site. If I can come up with a good gag for your suggestion, you're a winner!
Unless you're a hot dog. Then you're a wiener.