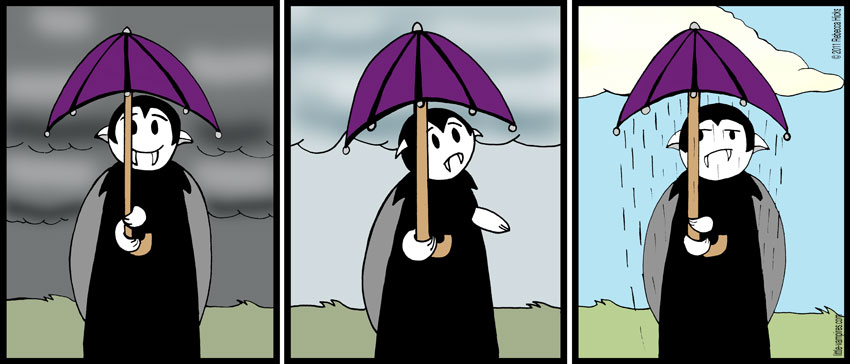 Appearances
CONVENTIONS
Sep

10‑12

2021

Rose City Comic Con

Oregon Convention Center | Portland, OR

Oct

1‑3

2021

MileHiCon

Denver Marriott Tech Center | Denver, CO

Nov

26‑28

2021

San Diego Comic-Con Special Edition

San Diego Convention Center | San Diego, CA

Dec

2‑5

2021

Emerald City Comic Con

Washington State Convention Center | Seattle, WA
The weather might be nice, but is your umbrella?
The comic might be funny (I hope), but the weather has not been funny at all in large parts of the U.S. So warm thoughts to all the people affected by the recent storms.
We'll be at the Long Beach Comic Expo this Saturday, April 23rd. The usual art and merch will be for sale, but give me a heads up if you have a sketch card request.
UPDATE: We will be at Artist Alley Table 514 at Long Beach. Now you have no excuse not to find us, bwahahaha!
Happy birthday to my cousins Cathleen and Colleen!