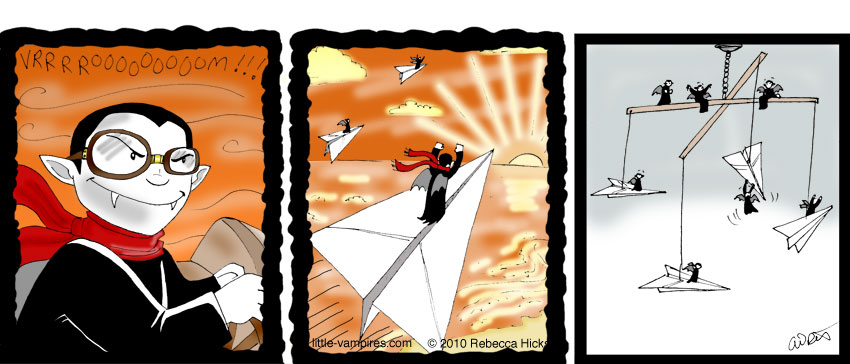 Appearances
CONVENTIONS
Sep

10‑12

2021

Rose City Comic Con

Oregon Convention Center | Portland, OR

Oct

1‑3

2021

MileHiCon

Denver Marriott Tech Center | Denver, CO

Nov

26‑28

2021

San Diego Comic-Con Special Edition

San Diego Convention Center | San Diego, CA

Dec

2‑5

2021

Emerald City Comic Con

Washington State Convention Center | Seattle, WA
They may be little, but they have big imaginations.
Alina Pete, creator of Weregeek and Moosehead Stew, penciled and inked this most awesome guest strip! Her inspiration? Being stuck at San Diego Airport. "They just want to fly. And so do I." Alina and the fabulous Layne eventually made it onto a non-paper airplane and sped away home, leaving me with this awesome strip to color and a big heap of "Miss them!"
The Weregeek crew shared the booth with us at San Diego Comic-Con International last week, which helped make our fourth year exhibiting there monstrously geektastic. But there was lots of icing on the cake that was Comic-Con.
-Randy and Ann of Strange Matter Comics — Super coffee icing!
-All the fans that stopped by the booth — Rainbow colored icing!
-All the friends and former students that stopped by the booth — Rainbow colored icing with sprinkles!
-Daniel and Dawna of Monster Commute — Pork flavored icing!
-All the incredible creative people that we got to hug and fist bump — Pencil lead and ink and paint flavored icing!
-Margaret, Phil, and the crew of Phil Davis Books and Treasures — Fabulous hat flavored icing!