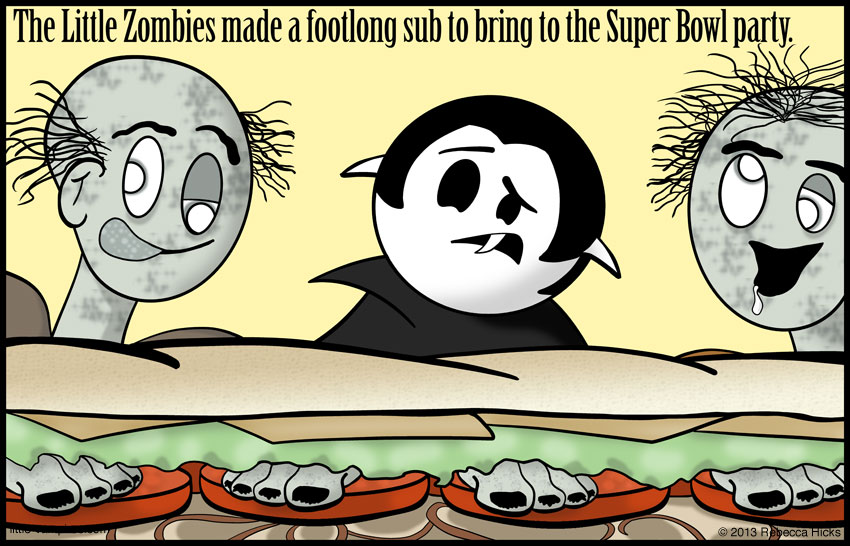 Appearances
CONVENTIONS
Sep

10‑12

2021

Rose City Comic Con

Oregon Convention Center | Portland, OR

Oct

1‑3

2021

MileHiCon

Denver Marriott Tech Center | Denver, CO

Nov

26‑28

2021

San Diego Comic-Con Special Edition

San Diego Convention Center | San Diego, CA

Dec

2‑5

2021

Emerald City Comic Con

Washington State Convention Center | Seattle, WA
The site is back! Thanks to everyone at our hosts, Blind Ferret, for working around the clock to get things as back to normal as the Little Vampires world can get. Which is not very normal. And thanks to you all for being so patient! You are the very definition of awesome. Unfortunately, there are hackers in the world who are the opposite of awesome. They can eat a bag of corpse toes.
If you have any trouble with the site, let me know with an e-mail or by contacting me via my Twitter feed. Should something like this happen again, you can get your Monday, Wednesday, and Friday comic on the Little Vampires Tumblr site, the Little Vampires Facebook page, or my Google+ page.
Book Update
I've got a week's worth of work left on the second Little Vampires printed comic collection. Thanks to everyone that is being so understanding as I hunker down all Emily Dickinson-like in my office, putting off answering e-mails, and running from the phone when it rings. Why is putting comics into a book so time-consuming? It's not, if you save your files correctly. I'm embarrassed to say that I saved many comics at web resolution without also saving a print resolution file. What this means is I have to redo many of the comics so that they are able to be printed. And that's extremely time-consuming.
Thanks to everyone that sent in fan art, photos, and comments to include in the book!
The other book I've been working on with artist Marie D. McNeill has been sent to the printers! It's called The Metaphysical Ponderings of Dogs, and it's about … dogs. I'm really excited about this project, and will be sharing more about it with you in the coming weeks.
Conventions
It won't be long until convention season starts again! Our first appearance of 2013 will be at Emerald City Comicon in Seattle, Washington. More details about our 2013 Not Entirely the Entire World Tour to come!