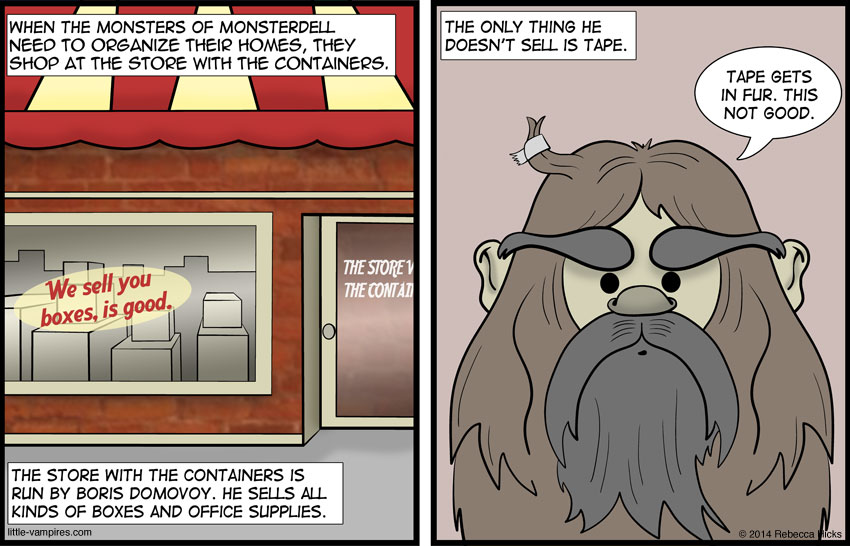 Appearances
CONVENTIONS
Sep

10‑12

2021

Rose City Comic Con

Oregon Convention Center | Portland, OR

Oct

1‑3

2021

MileHiCon

Denver Marriott Tech Center | Denver, CO

Nov

26‑28

2021

San Diego Comic-Con Special Edition

San Diego Convention Center | San Diego, CA

Dec

2‑5

2021

Emerald City Comic Con

Washington State Convention Center | Seattle, WA
Wolfie's brothers Romulus and Remus got loose in The Store With The Containers once. It took Boris Domovoy two weeks to get the packing tape out of his fur.
The Domovye are house spirits from Slavic folklore. They have similar attributes to brownies and hobs. You can learn more about them HERE.
I'm starting a new Monsterdell storyline involving Little Vampires and boxes. Yes, they can get into trouble with ANYTHING. 🙂 These comics will be more a thematic gag arc than story. I hope you enjoy it! I'm also using a new font, and really working on improving my inking. As always, I really appreciate your feedback, positive or negative. Anything that helps me get better at making you laugh is positive!
We're getting ready for our upcoming appearances at Phoenix Comicon and Denver Comic Con, two back-to-back awesome conventions of awesomeness! I'll be posting info and maps soon.