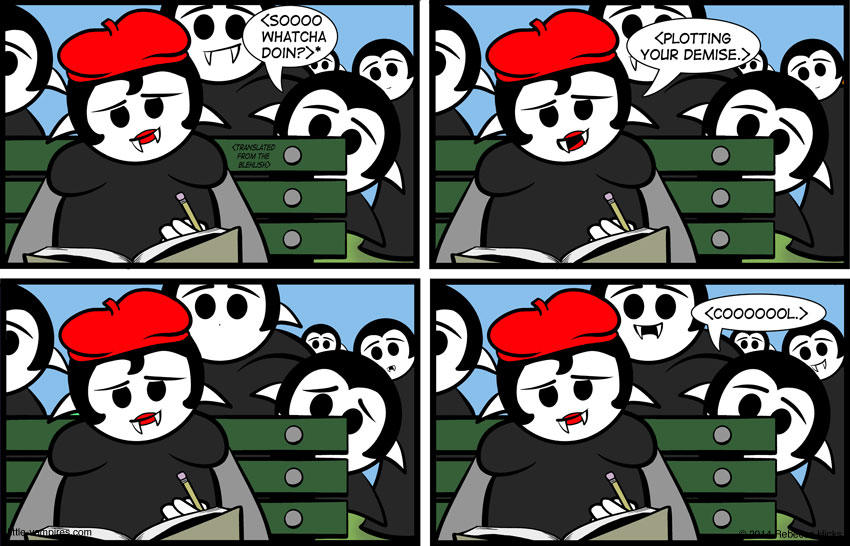 Appearances
CONVENTIONS
Sep

10‑12

2021

Rose City Comic Con

Oregon Convention Center | Portland, OR

Oct

1‑3

2021

MileHiCon

Denver Marriott Tech Center | Denver, CO

Nov

26‑28

2021

San Diego Comic-Con Special Edition

San Diego Convention Center | San Diego, CA

Dec

2‑5

2021

Emerald City Comic Con

Washington State Convention Center | Seattle, WA
Happy Birthday to my friends Cathy and Kim!
Because of convention prep and travel, the Little Vampires are taking Monday off. They'll return on Wednesday, October 15.
The Little Vampires are in Seattle for Geek Girl Con! Visit Monsterdell at the Washington State Conference Center this weekend, October 11 and October 12.

I will be a part of the How to Be a Nerd for a Living panel at 11:00 a.m. in Room 302:
Do you want to work in the industry you're passionate about, but you're not sure how to get there? "Nerds for a Living" will discuss different jobs that exist within film, gaming, comics, and more. Each pro will share jobs that exist within their area of pop culture entertainment, and discuss how they got where they are. Learn about training, online resources, and tactics to use and avoid when trying to get your dream nerd job!
Our good friends at Bent-Con have a Kickstarter to help support their awesome convention! Show them the love AND get a one-of-a-kind custom commission from me!