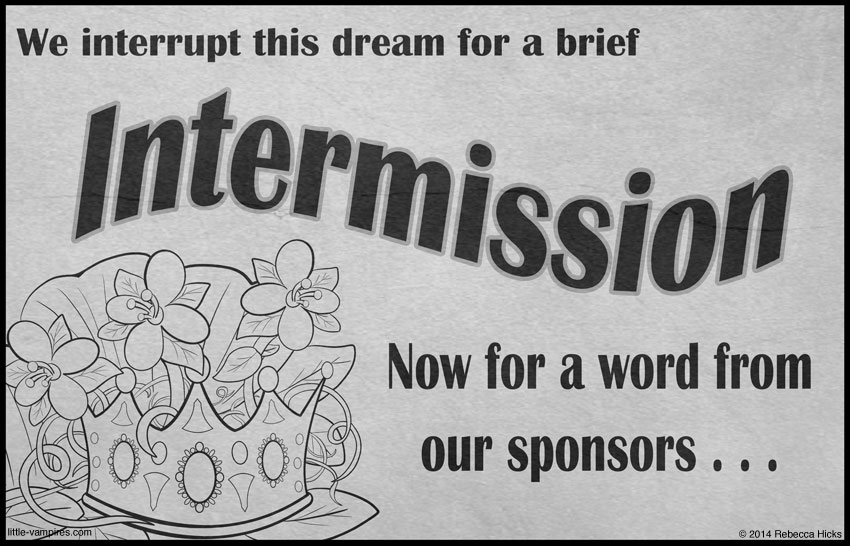 Appearances
CONVENTIONS
Sep

10‑12

2021

Rose City Comic Con

Oregon Convention Center | Portland, OR

Oct

1‑3

2021

MileHiCon

Denver Marriott Tech Center | Denver, CO

Nov

26‑28

2021

San Diego Comic-Con Special Edition

San Diego Convention Center | San Diego, CA

Dec

2‑5

2021

Emerald City Comic Con

Washington State Convention Center | Seattle, WA
Happy St. Patrick's Day! Sláinte ague táinte to all of you, Irish and not-so-Irish. 🙂
Don't worry, the comic is not going on a hiatus. I'm in Kentucky for a week and a half, where I'm busy doing appearances at conventions, a reading celebration, and school presentations. Then I'm immediately off to Seattle for Emerald City. But I wanted to make sure you still get your comics three days a week! So I came up with this intermission idea, which will consist of Shakespearean parody advertisements. Creating these took a little less time than the comic normally does, which allowed me to make enough to post ahead of my trip. Thanks for understanding, and I hope you enjoy them! Grigore's dream will return to its regularly scheduled programming in early April.
You can port back to the beginning of this story arc and get caught up on all the Shakespeare-shenanigans by clicking HERE.
Thank you to everyone that supported us at the Lexington Comic & Toy Convention. Special thanks to my family and friends for keeping me supplied with coffee and food. 🙂 Big big thanks to Brianna for allowing me to crash (hard) at her place. I will be at the Powell County Reading Celebration, this Saturday, March 22.
We will be in Seattle for the always epic Emerald City Comicon March 28 through the 30. We'll be exhibiting with our friends at Weregeek in booth 610. You can find us and other independent artists by using this fantastic map created by our friends at Fez-O-Rama!