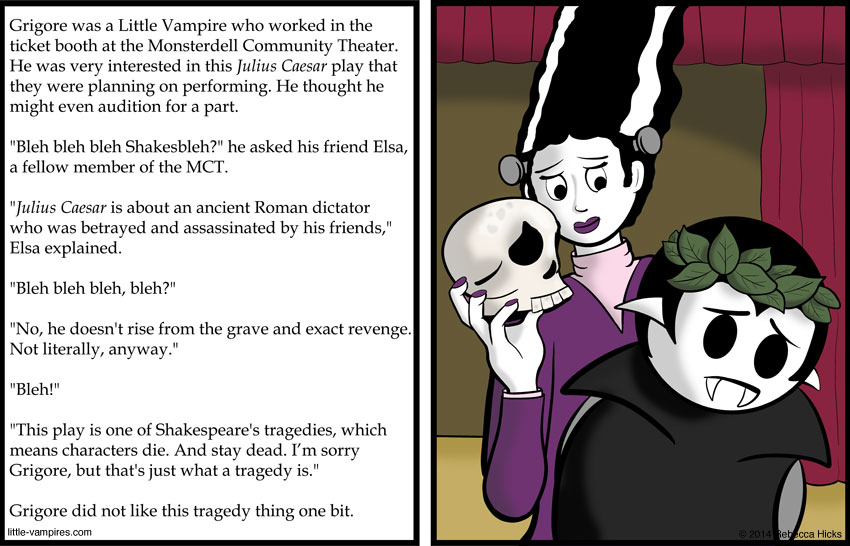 Appearances
CONVENTIONS
Sep

10‑12

2021

Rose City Comic Con

Oregon Convention Center | Portland, OR

Oct

1‑3

2021

MileHiCon

Denver Marriott Tech Center | Denver, CO

Nov

26‑28

2021

San Diego Comic-Con Special Edition

San Diego Convention Center | San Diego, CA

Dec

2‑5

2021

Emerald City Comic Con

Washington State Convention Center | Seattle, WA
Yes. The Little Vampires now have names.
Though they are still an autonomous collective of almost identical looking creatures, I realized that the Little Vampires would need to be a little more individualized. This would allow me to develop more interesting story arcs in the world of Monsterdell. So I did some research on Romanian names, and now have a long list to choose from. My thinking behind that was the Little Vampires were discovered by Dracula in his castle, and he named his new little friends in order to tell them apart. 🙂
I'm also continuing to evolve the character designs of Monsterdell residents, as you can see with the update to Elsa.
The comic has evolved into more of an online storybook which is focused on the residents of Monsterdell. The character designs are changing to allow for more facial expression. The Little Vampires are becoming a little more individualized. The characters are now speaking, albeit through a narrator. I have no intention of having the Little Vampires speak using much more than blehs. But everyone in Monsterdell understands them and can translate for you. 🙂
It's time for you to let me know what you think about these changes. I create the best work I can create, but no artist exists in a vacuum. So if you don't like these changes, let me know. If you do like them, also let me know, and, more importantly, tell a friend about the comic!
CONVENTION APPEARANCE
Our first convention appearance of 2014 is fast approaching. We will be in Artist Alley at Amazing Arizona Comic Convention from January 24 to the 26. Keep an eye out for updates here in the blog regarding some great new art that we'll have at that show. And though the third printed comic collection won't be published in time for Amazing Arizona, there will be sneak peeks at the creation of the book in the blog also. If all goes well, we can begin taking preorders for book three at Amazing Arizona.